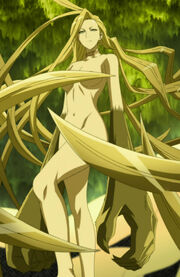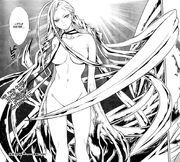 Appearance
Edit
She appears to be in her late teens or early twenties in appearance.
She appears to have either strong patience or excessive disinterest in many topics. She was very attached to her sister Niche, but became emotionally scarred when the two were separated.
Niche's twin sister. Not much is known about her except she is more adult than her twin. She is also 200 years old. She boasts dislike towards the Humans of Blue Notes Blues village, as they had separated her and her sister.
Abilities/Attacks
Edit
Her attacks are more intricate and she appears to have more evolved/experience fighting with her "swords".
Her attacks have appeared in this manner:
As an over sized, elegant blade which appears to use up all of her strands of hair when attacking.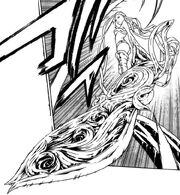 All strands of hair / blades aimed at one specific target (looks like a standoff before attacking)