Welcome to Letter Bee Wiki!
Tegami Bachi (テガミバチ Letter Bee Tegamibachi, lit. "Letter Bee") is a shōnen manga series by Hiroyuki Asada. The series was first serialized in Monthly Shōnen Jump for ten chapters, and is currently serialized in the new monthly magazine Jump SQ..
Plot: The story takes place in the land of AmberGround, a place of perpetual night only partially illuminated by an artificial sun. Lag Seeing works as a "Letter Bee" (delivery boy) at the "Bee Hive" (a delivery service), with his Dingo, Niche, and her "pet", Steak, traveling with him. As a Letter Bee, Lag's job is entrusted to deliver letters and packages from town to town while avoiding Amberground's deadliest hazard — a species of giant armored insect known as Gaichuu, who attempt to feed off the "heart" that reside within these letters and packages.

Here you can find out about the anime series Letter Bee (Tegami Bachi). However, note that this Wiki is currently under construction, as it has only a few pages. You can help by contributing all you know about the characters and the series. Please be as detailed as you can, though don't worry about grammar because it could be fixed up by others. Also, please make sure all your information is true and clear.
Thank you!
Main Page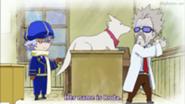 Characteristics
First Appearance
Community content is available under
CC-BY-SA
unless otherwise noted.