Gauche Suede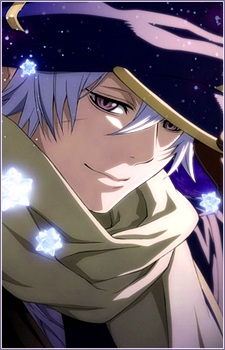 Characteristics
First Appearance
Gauche Suede was the False-Protagonist of Letter Bee. Gauche was the letter bee assigned to deliver Lag Seeing to Port Cambel. Gauche was originally very cold towards Lag, and would not care about his feelings. On one occasion Lag asked "You're saying we can't be friends?" which Gauche replied to with "I will transport you, a letter, safely and unscathed to Cambel. That is the entirety of my job." This made Lag cry and say that he hates Gauche who says that it is not part of his job to get Lag to like him. After this, Lag took Gauche's gun and went to look for his mother.
Gauche later found Lag being attacked by a
Gaichuu
and saw Lag shoot a
Shindan
and his
Spirit Amber
eye, through the heart, he saw Lag lose his mother, and cried. This is later revealed to be because Gauche also lost his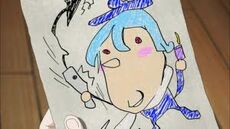 mother, but soon after blocked her from his head and focused all his attention on making Sylvette happy. Soon after, he carried Lag into a cave and was resting with Roda, he later defended Lag from a horde of Gaichuu, after this Lag awoke and saw his conversations with Sylvette and Aria Link, after Lag carries Gauche to Cambel, Gauche awoke later, and the first thing he asked was who the woman he was speaking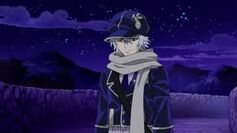 to was and could she please sign the delivery card, she soon threw him out for being unthankful to Lag. after Lag and Gauche have one final conversation before he leaves, but before he leaves he sais that Lag and him are friends and that he is now a man. it is later revealed that he had quit being a Letter Bee, even after being a candidate for Head Bee.
In the series, he is a very soft and gentle person, that is before he became Noir, he cared for everyone even if they were not in the Bee- Hive or even if they had no connection with him. He is shown to be very dedicated to his job and risks his life too much just so that he will become Head- Bee. He is the only friend of Dr. Thunderland Jr and the only person who didn't think he was crazy, instead, he understood what the doctor tried doing and supports him in many ways. He is also very kind to Lag, but only acted like he didn't care, but in his heart, he deeply cares for Lag and tells most of the people he meets about Lag and his capabilities. Gauche overall was a generous, kind but a little uncaring character, he loses his whole heart and ends up on the Reverse side, because they were the ones who found him and told him everything, but not completely everything about the Bee Hive, he was known to be the only man who returned alive from the light. When he is Noir, he is more uncharacter because of his lack of emotional feelings for anyone, because he doesn't remember anyone, not even Lag, nor Sylvette, but Lag struggles to get his heart back, so that he will one day become Gauche again. His heart only has the memories of Noir but with thefeelings of Gauche after Lag shot him with a Letter Bullet
Lag thinks that because of having to eat Sylvette's cooking for so long, Gauche's taste of food is very strange.