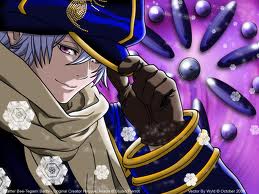 GAUCHE SUDE /NOIR (LETTER BEE /LETTER BEE REVERSE) by jennyta ...
Lag's rescuer, who first appears in chapter 1. He is the letter bee that finds young Lag Seeing marked as a letter in "Cosa Bell", a small town in the "Yodaka District" (The low class district in Amberground). He has to deliver to "Campbell Litus" a town also in the "Yodaka District" so he can join his aunt who was trusted to take care of him from the person who wrote Lag's letter data. Gauche is also a caring and enthusiastic letter bee, he is trying to become the "Head Bee" (Captain of the letter bees) so he has enough money to help his sister and live peacefully. In Chapter 7 it is revealed that Gauche is no longer a Letter Bee. Gauche later appears before Lag and steals the letter he is delivering. He refers to himself as a Marauder known as Noir and appears to have no memories of Lag or being a Bee, possibly having lost that part of his heart. Later on a Marauder is explained to be a "Plunderer" who takes on the job of theft. Marauders mainly target Letter Bees to keep them from delivering their letters. His name is derived from Gauche the Cellist. In chapter 30, Lag fires a letter bullet through Gauche, which brings back Gauche's memories, but also leaves him comatose til chapter 38.
It is revealed in Chapter 10 by Aria Link that Gauche's sister Sylvette was born on the Day of Flicker. He'd gone to the Hill of Prayer to pray for his mother and sister when Sylvette was born. The Day of Flicker (romanised as "The day of blink" in Japanese media) was the day when the government went out for an investigation and a modification of the manmade sun. His mother died after Sylvette was born. Subconsciously, Aria says that to fill the void in his heart left by the missing shards of his memories of his mother, he started focusing all his attention on making Sylvette happy.
Gauche's Spirit Amber attack is called Kurobari (Black Needle). During his time as a Letter Bee he owned the Nocturne #12, but his current Shindanjuu is Gymnopédie that uses the attack Raven Black.