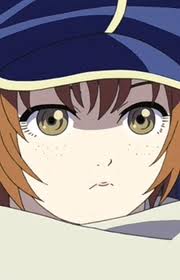 Character
Edit
Elena Blanc is a beautiful girl in the same age as Largo Lloyd, if she was alive.She has brassy red hair,golden-hazel eyes, freckles and a cheerful expression.
Elena said she came from Silencio.
On the way from delivery, she met and battled Gaichuu Absinthe but defeated. She died on the Sea Lion Cliffs and was buried on sight by Pastor Wiener.
She has a dingo named "Darwin".Extremely loyal, like Hachiko by the trainyard, it waited for her return to play in Olympia Lake, however her Elena's promise was never fulfilled because of her early death. Soon after, though, Darwin joined his master at her grave.